Build your roadmap to growth with a seasoned expert with 17 year's experience in strategic marketing and events.
The Key Ingredients to Marketing Craft Beer
Build Your Do It Yourself Marketing Plan to Get More Raving Fans and Sell More Beer
Watch Promo
Register Now for $599
I've had many conversations with craft breweries about their challenges and a large majority told me that their biggest need is help with marketing. Let's take my friend Bob for example. He owns a brewery and makes awesome beer. He knows he needs to do marketing to get people in the door and drink his beer, but he doesn't know anything about marketing. Since his brewery is pretty small, he doesn't have the money to hire someone in-house and really can't afford to hire an agency on a regular basis. So, he decided to hire a college student to help him with social media, but he wasn't getting as many people in his brewery as he hoped.

My other friend Alex has owned a brewery for a few years, but he realized that he's not hitting the numbers he wanted. When he first opened, he relied on the hype and his circle of friends and family to get the word out. It worked for a while, but the number of people started to decline due to other breweries popping up around him. I recently asked him how his business was doing and he said that he's not sure if his brewery can stay open, especially with all of the breweries around him. He told me that he regrets not doing a lot of marketing before they opened or even now.
I know Bob and Alex aren't the only ones dealing with this and many other challenges. There are tons of craft breweries that don't really have the training and expertise to know how to get people into their doors. Not only that, some breweries don't understand the importance of marketing and how it can truly help grow their business.
But it doesn't have to be this way…
What if you could work side by side with a seasoned marketing expert to develop your own step-by-step marketing plan without breaking the bank?
What if you could build a strong, loyal following of raving fans?
What if you could find a way to really stand out from other breweries?
What if you could snap your fingers and get tons of people drinking your beer?
I love the craft beer industry and really want to help you grow your business by teaching you about marketing and giving you the tools that are needed to create your own DIY Marketing Plan. Once you have your plan then you'll have to roll up your sleeves and implement your plan.

Who should take this course?
For owners of a microbrewery, brewpub, or regional craft brewery that want to invest in marketing to grow their business, The Key Ingredients to Marketing Craft Beer course provides the knowledge and tools to create a Do It Yourself Marketing Plan to market their business with a seasoned marketing expert. With this plan, you'll get more raving fans and a line out the door!
Learning Objectives:
Gain a thorough understanding of marketing
Identify your target persona and get them to be raving fans
Expand your tribe through strategic alliances
Develop a step-by-step DIY marketing plan that will set you up for growth and a line out the door
What's Inside The eCourse?
Hours of detailed video tutorials
A plan to develop a detailed, step-by-step plan to grow your craft brewery
A proven strategy that has increased traffic and generated awareness for numerous businesses!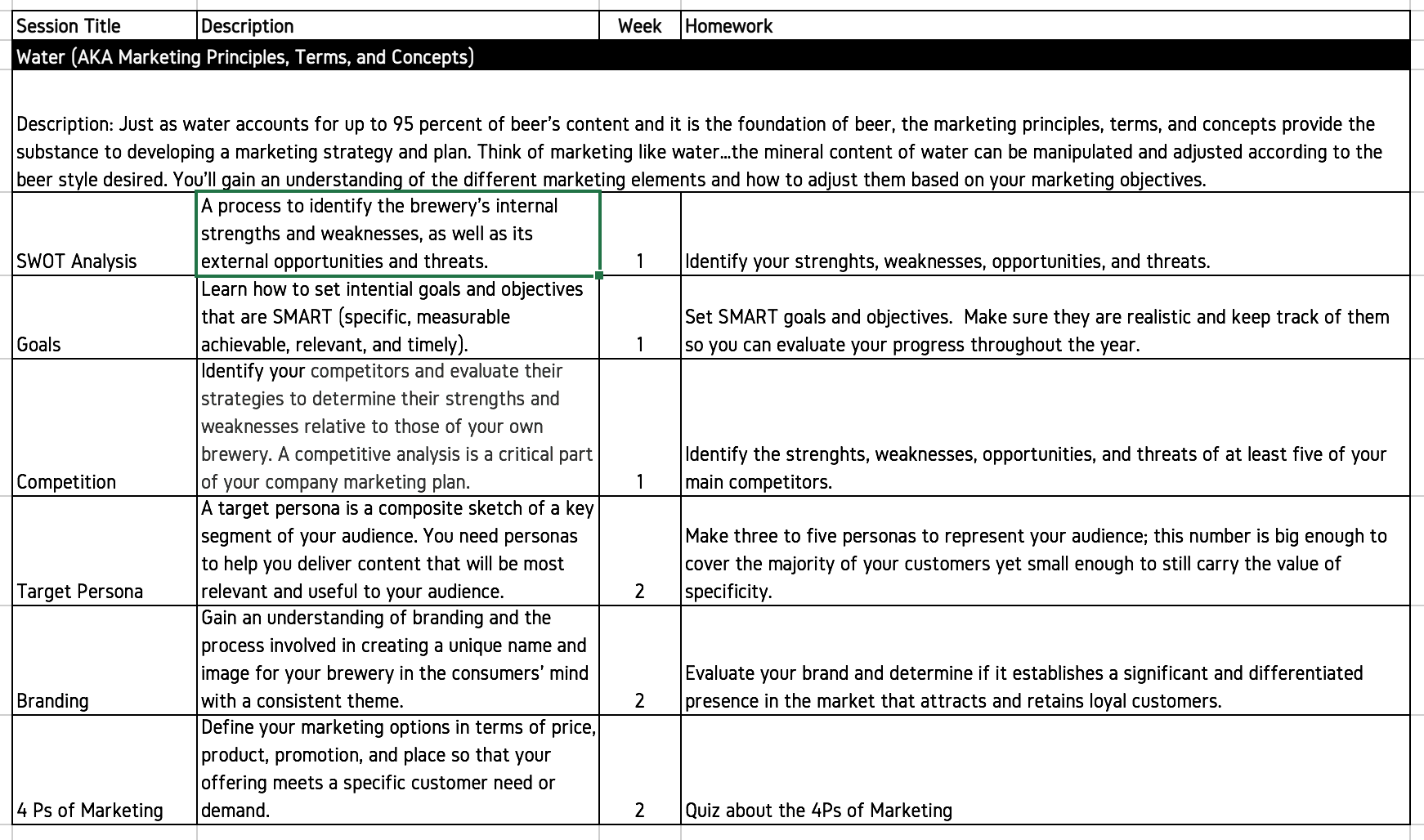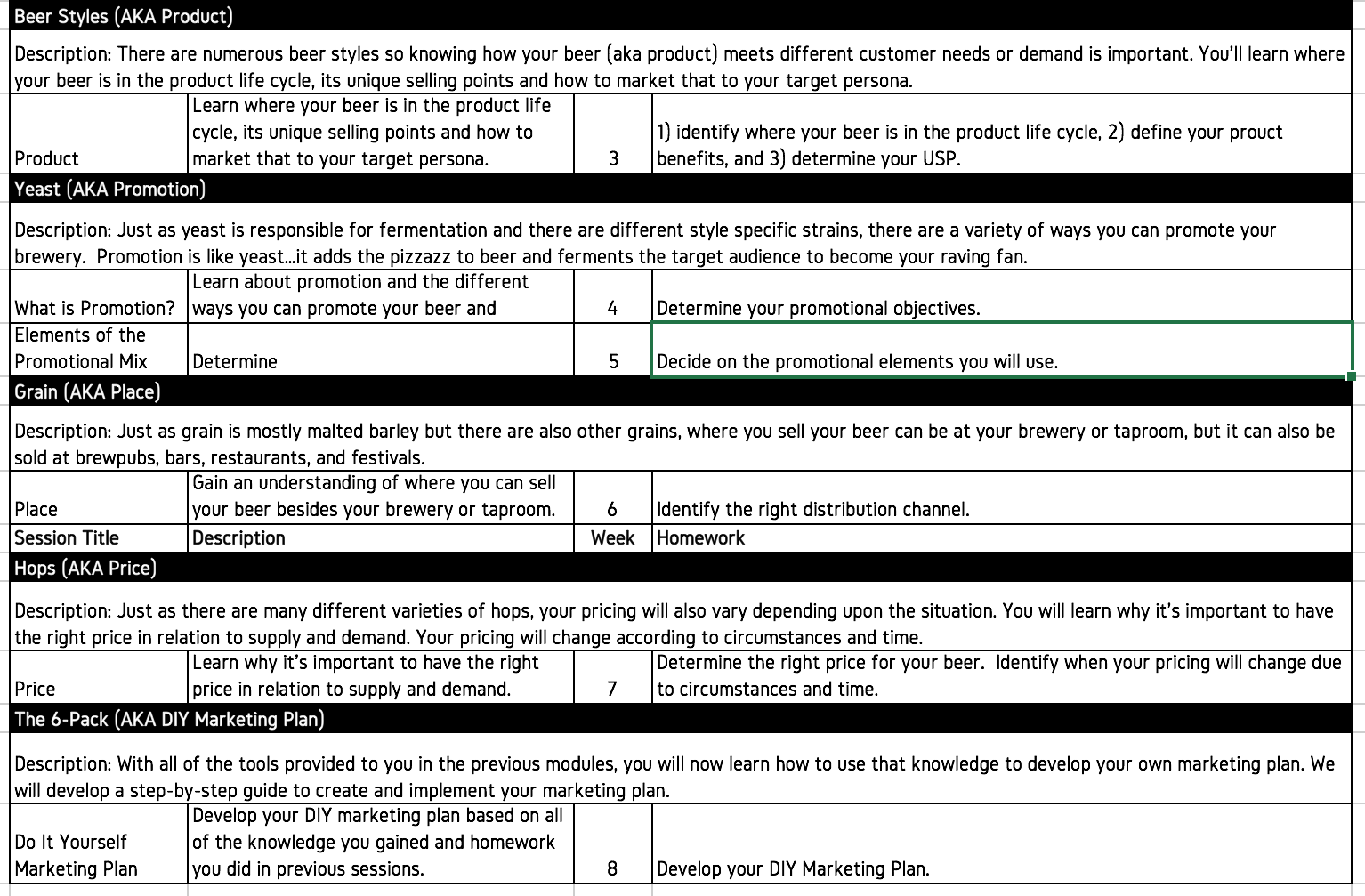 Course Curriculum
Promo Videos
Available in days
days after you enroll
eCourse Workbook
Available in days
days after you enroll
Water (aka Marketing Principles, Terms, and Concepts) - Weeks 1 and 2
Available in days
days after you enroll
Your Instructor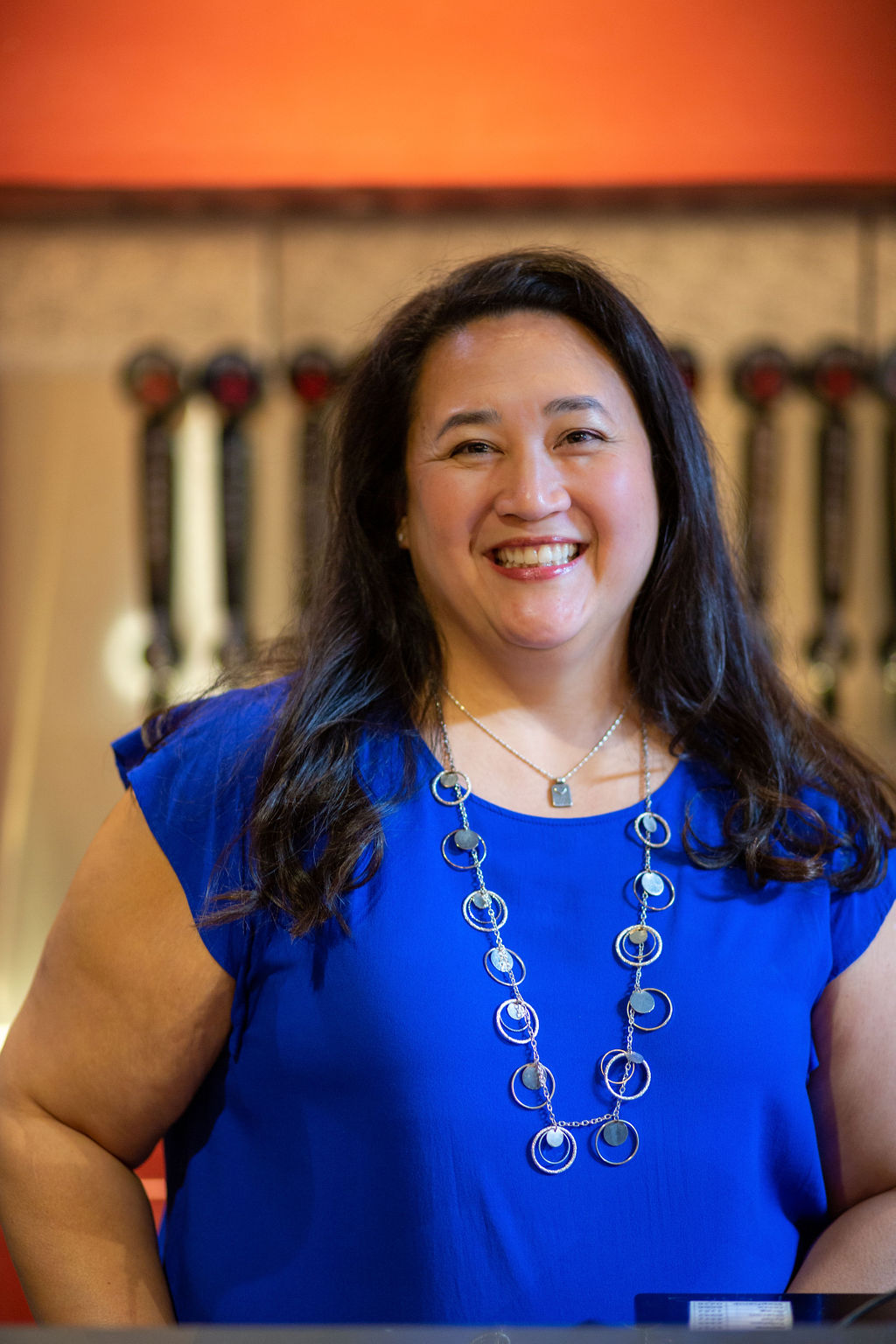 Ruby Benoit is a veteran marketing, event planning, and project management professional with over 20 years of experience with global brands in tourism, hospitality, sports, entertainment, fashion, and consumer packaged goods. She has developed groundbreaking campaigns consisting of advertising, digital marketing, promotions, public relations, social media, and special events. She is particularly effective with translating conceptual business initiatives and ideas into actionable growth strategies and business campaigns that increase awareness and generate revenue. She has the proven ability to solve complex problems and is particularly skilled in developing the right project management process and leading its implementation.
Ruby's diverse experience includes working with San Francisco Beer Week, Great American Beer Festival, World Beer Cup, San Diego Startup Week's Craft Beverage Track, America's Finest City Homebrew Competition, the San Diego Festival of Beer, Cause Conference 2017, Restaurant Weeks, Newport Beach & Company, LA Tourism & Convention Board, the International Paralympic Committee, the US Olympic Committee, Gage Marketing Group, Lawry's Foods (Unilever), 20th Century Fox, and Saatchi & Saatchi. Her global experience includes Australia, China, France, Greece, Italy, Middle East, South Africa, Switzerland, and United Kingdom.
She is also a member of various organizations, including the American Marketing Association, Brewers Association, California Craft Brewers Association, Conscious Capitalism San Diego, and San Diego Brewers Guild. During her free time, Ruby loves to discover new craft beers, spirits, cuisine, and destinations.
Frequently Asked Questions
Why do I need a marketing plan?
A marketing plan is very important because it sets the course on how and where your brewery will grow. It also keeps you focused and on track with your goals and objectives (as long as you use it). I've created a few marketing and business plans in my career and they are only as good as if you use it on an ongoing basis. The marketing plan that you'll create is not one of those behemoths of a plan, but will be very user friendly so that you can refer to it constantly. A few people have said that they don't need a marketing plan since they can just hire a college student or intern to do social media. I'm all for hiring students and interns so they can learn and get on-the-job training, but the thing that is usually missing is the strategy and plan. Yes, even social media must have a strategy and plan behind it or it's just a bunch of posts and online ads that don't truly reach your target persona. I highly encourage hiring a student or intern, but make sure that someone with more experience guides the strategy and planning. Think of it this way…would you hire an intern or someone with very little experience to brew your beer?
How long do I have access to the course?
After enrolling, you will have access to this course for three months.
When does the course start and finish?
It is a completely self-paced online course - you decide when you start and you should be finished in eight weeks as long as you follow the suggested timeline and do your homework.
What if I am unhappy with the course?
We would never want you to be unhappy! If you are unsatisfied with your purchase, contact us in the first 15 days and we will give you a full refund.
Who needs marketing? I have great beer so people will find me.
I have been told by a few breweries that they don't need marketing since their beer is so amazing and people just come into their tasting room. Sorry to burst your bubble…I'm not doubting how tasty your beer is because I'm sure it is great. It might be easy to attract people at first through word-of-mouth, but how long will that last especially with over 5,000 craft breweries nationwide? My friend who owns a brewery had the same mindset when he opened his brewery and now he realizes he should've done more marketing and brand building before he even opened his doors.
I don't have a lot of money so why should I take this course?
I've heard this plenty of times, but think of all of the potential customers that you're missing out on since they have no idea that you exist. Think about it… 3 beers per customer per visit x $6/pint x 40 new customers per weekend x 52 weekends = $37,440 additional revenue. That's $37,440 you could've earned if you only invested a little into marketing your brewery.
I don't have the time to do marketing let alone take an eCourse so how am I going to finish the course?
I get it, opening and running your own business, let alone a brewery is very time consuming. However, as I mentioned above and as you'll see in the testimonial section, marketing is extremely important for the success and growth of your brewery. The thought about taking an eight week course probably sounds scary and overwhelming, but believe me…it's not that bad. I've broken the course into 6 sections or as I like to call them, The Key Ingredients to Marketing Craft Beer. Within each section are "tasting glass" size videos that you can watch at your leisure during each week. Keep in mind that there will be homework, but it's totally doable.
I haven't opened my brewery yet so why do I need to do marketing now?
I've heard this plenty of times and not only from breweries, but other businesses. This is one of the biggest mistakes. There's a lot of competition out there so it's important to get the word out about your brewery as soon as possible. You'll want to start building your brand, creating relationships and growing a fan base way before your opening. It could take several months or even a year to build your brewery, brew beer, and get everything running smoothly before you open. During this time you could be engaging with your future customers plus you'll have a loyal fan base that you can invite to your grand opening. One thing to check off your to do list! :)
Can I really write a strategic marketing plan by myself?
You sure can! It's not as scary as you think. In the eCourse, you'll gain a thorough understanding of marketing and get the training you need to write a step-by-step DIY marketing plan that will help you accomplish your goals. I've laid it out in easy-to-understand lessons and have put it into beer terms that you'll understand. There are 6 sections and each one equates to a beer ingredient or term: 1) Water = Marketing Principles, Terms, and Concepts, 2) Hops = Price, 3) Yeast = Promotion, 4) Grain = Place, 5) Beer Styles = Product, and 6) The 6-Pack = DIY Marketing Plan. If you need help throughout the eCourse, we could set up a one-on-one strategy session to answer any questions, address any challenges, and provide guidance.
Who is the ideal student?
I don't want to waste your time or mine so if the below doesn't sound like you, then please don't take the course. You are...1) Dedicated to learn, 2) Willing to go through the process, 3) Committed to put a lot of thought into it and do the work, 4) A small to mid-size brewery owner that doesn't have an in-house marketing team or agency, or 5) Craft brewery staff that doesn't know anything about marketing or that wants a refresher course.
TESTIMONIALS
"Great information to get your marketing plan off the ground!!"
- L. Hess, Co-Founder & Director of Operations of Mike Hess Brewing
"Ruby offers more than an impressive wheelhouse. I always appreciated Ruby going the extra step to ensure my brand's agenda was achieved."
- W. Chaumont, Marketing Regional Centers of Irvine Company Retail Properties
"Ruby is a multi-talented marketing professional and I could always count on her to deliver quality integrated marketing services."
- N. Mouleart, Vice President, Group Account Director of Vertical Marketing Network
"Ruby Benoit is a marketing and idea generator par excellence!"
- M. Boone, Director of International Sales & Tourism of Cirque du Soleil Resident Shows Division